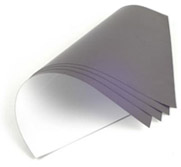 Fabric and Canvas
FAB12-SOL
Woven polyester fabric combined with a water resistant matte surface to produce exceptional printed resolution and high definition. Heavy and fire retardant photo fabric that have no curl/crack under the tension.
Physical Properties
Weight 240 grams
Finish Matte

Features
No edge-curl when under tension
Moisture resistant for short-term outdoor applications
Wrinkle-free
Ink limit 200%
PVC free
Water resistant
Fire retardant

Applications
Synthetic canvas
Banner stand
P.O.S.
Short term outdoor display
Hanging banner
Tensioned banner
Roll up blind
Exhibition Graphics
Formats and Specifications
| | |
| --- | --- |
| Format | |
| 36" x 100' | |
| 54" x 100' | |
ICC Profiles List
Comments for FAB12-SOL
There are no comments yet.