About Us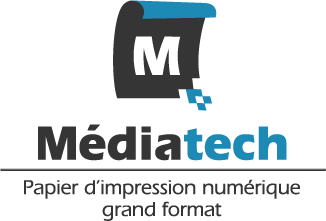 Since its foundation in 1994 by the father and son team of André and Alain Paradis, Médiatech has constantly evolved along with the printing industry. Starting with just three employees, the company was originally a technical paper supplier, and at the time we sold our papers to engineers, architects and surveyors. We also provided them with drafting accessories.
An evolving industry
The printing industry has seen significant changes over the years. The arrival of the digital era revolutionized the industry, which until then had relied on traditional offset and screen printing methods.
Digital technologies now offer nearly unlimited printing possibilities. In the mid 1990s we discovered the first generation of wide-format digital printers at a print industry trade show in Vancouver. We immediately grasped the practical aspects of this new type of printing. Alain Paradis is a man who believes in the future, and on his return he set the company on a new course, making it a distributor of wide-format digital print media. This activity now accounts for 80% of our sales, while our initial business of distributing drafting papers accounts for the remaining 20%.
Quality services

Today, Médiatech employs a team of 12 people to meet the needs of its vast clientele. Our sales team has extensive knowledge of the products on the market and their applications, which means our customers receive excellent, efficient service. We offer a complete range of wide-format digital print media, including papers for presentations and photos, back-lit films, self-adhesive products, art substrates, banners and even fabrics. We work with industry leaders to ensure that our products meet our customers' stringent requirements and we demand consistent and reliable products from our suppliers. We also accompany our customers through purchases of equipment such as HP wide-format printers, RIP software, inks, toners, trimmers, and more.
With our vast inventory, we can quickly meet any of your needs. "People often ask us for advice before starting a project. They want to know all about the best print substrates. There are water-based, pigmented, solvent and latex inks, and certain types of media work best with certain types of ink. This is an important consideration with print projects."
Whether you are printing banners, posters, exhibition stands or displays, Médiatech can provide the ideal print media.
Changing technology

Médiatech's customers use water-based, solvent-based and latex ink printers. "Water-based inks must be used on specially coated substrates. There are two types of water-based ink: dye-based (DYE), for short-term (3 to 6 months) indoor use, and pigment inks (UV), which can resist the fading caused by exposure to UV rays from sunlight for much longer periods. When using UV-resistant inks, graphics must still be laminated to protect them from handling and bad weather conditions, which increases costs. When using the much more aggressive solvent-based inks, as well as latex inks, the substrates require no special coating, so they are much less expensive and can be used outdoors without protection. The first solvent printers were very large (10 feet by 16 feet wide) and very expensive, and the print quality was satisfactory only when viewed from a distance. In recent years the technology has become much more accessible, and a multitude of less expensive, smaller printers, offering print quality equal to that of the best water-based ink jet printers, are now available."
New location

With the rapid developments in solvent technology and, more recently, latex inks, Médiatech found it needed more warehouse space to store a greater range of print substrates for wide-format ink jet printers that use solvent-based and latex inks. So in October 2005 we moved to new and more spacious premises on Dagenais Boulevard in Laval.
A cut above the competition

Médiatech stands out in its highly competitive field because of its excellent customer service. "Our wide selection of products is what sets us apart. We offer all kinds of products, such as our range of Ferrari banners. This high-end product offers excellent print quality and is extremely stable, so it won't bend. One of our other advantages is that we let our customers reach us directly, without having to use voicemail. At Médiatech, our customers come first. We do everything we can to assist them and find the ideal solution. "At Médiatech we are always on the lookout for new trends and products to strengthen our reputation for excellence in consulting services.
Médiatech, first-class service for wide-format print media!